Living near the station means easier office access.
Moreover, you can handle late-night overtime work or nightlife in central Tokyo more flexibly.
Living near stations lets you use time more effectively.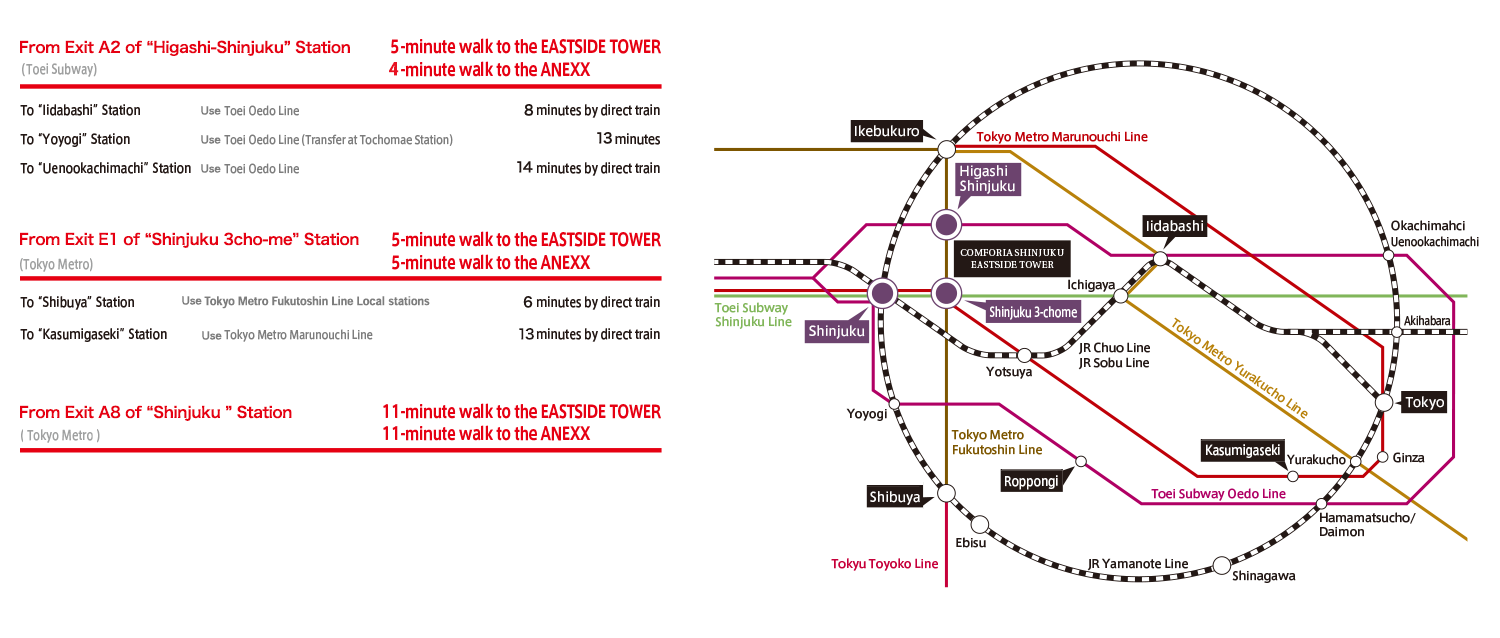 ※1 You can use the route going through Shinjuku East Side Square, which is 2 minutes' walk, from 7:00 a.m. to 10:00 p.m.
※ The time required for trains is for daytime at normal times and may therefore differ slightly depending on the time zone or the day of the week and excludes transfer or waiting time.
※ Distances on this page are estimated based on the map.
※ The information is current as of July 2018.
The contents have been changed.
We have made corrections. Please accept our sincerest apology.

Incorrect:
2-minute walk from "Higashi Shinjuku" Station (A3 Exit)
4-minute walk from "Shinjuku 3-chome" Station (E1 Exit)

Correct:
[EASTSIDE TOWER]
2-minute walk from "Higashi Shinjuku" Station (A3 Exit)(※)
4-minute walk from "Shinjuku 3-chome" Station (E1 Exit)
11-minute walk from "Shinjuku" Station (A8 Exit)
※You can use the route going through Shinjuku East Side Square, which is 2 minutes' walk, from 7:00 a.m. to 10:00 p.m.
[ANNEX]
3-minute walk from "Higashi Shinjuku" Station (A3 Exit)
5-minute walk from "Shinjuku 3-chome" Station (E1 Exit)
11-minute walk from "Shinjuku" Station (A8 Exit)